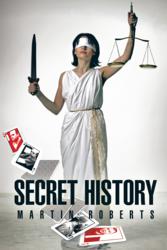 London (PRWEB) March 01, 2013
In a passionate pursuit of the truth, conspiracies are revealed and readers must judge for themselves who is guilty and who is innocent.
Martin Roberts invites readers to travel by his side as he exposes faulty prosecutions generated from fraud, conspiracy and public panic in his latest book, Secret History. As an expert on law and legal issues, who has dedicated his life to uncovering the truth of these trials, Roberts hopes his book will show a new and different look at the drama that arises when panic spreads through the different levels of society.
My book relates the events and evidence in a number of cases in the United States in the postwar McCarthy era, and of cases in the United Kingdom during the Irish Troubles. The common theme is the fact of abuse of the legal process by authorities keen to respond to public fear and paranoia by finding someone to blame and convict, says Roberts.
Through in-depth research, author Martin Roberts reveals the corruptions that jeopardize the very values our legal systems were founded upon. This expos
https://publiclyrelated.com/wp-content/uploads/2014/06/Logo.png
0
0
Publicly
https://publiclyrelated.com/wp-content/uploads/2014/06/Logo.png
Publicly
2013-03-01 14:21:53
2013-03-01 14:21:53
New Book Discusses the Truth Behind the Corruption, Conspiracies in Legal Systems