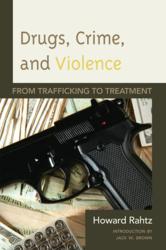 Cincinnati, Ohio (PRWEB) January 11, 2013
Howard Rahtz has a dual background in drug treatment & drug interdiction, providing him with firsthand experience of Americas drug prohibition policy. His career in law enforcement spanned eighteen years where he rose to the rank of Police Captain in the Cincinnati Police Department. His journey in law enforcement and drug rehabilitation is an interesting parallel to the forty years of the Drug War. In Drugs, Crime and Violence: From Trafficking to Treatment, just released by Hamilton Books, Rahtz lays out a new prescription for Americas drug problem, which supports drug regulation rather than prohibition. Each chapter includes a true story with a tragic outcome as a result of the war on drugs, as well as a discussion of the issues, and extensive source notes. Drugs, Crime and Violence: From Trafficking to Treatment lists for $ 28.99 and is available through Amazon.com.
In his new book Rahtz concludes the Drug War has failed as a policy, and it is time for America to embrace a different approach. Prohibition has filled our jails, criminalized millions of our citizens, provided a financial windfall for international and local criminal groups, and somehow we never tire of pretending it is working.
Howard Rahtz has presented one of the most comprehensive works ever written dealing with the multiple layers of problems caused by drugs and alcohol in our society," comments Lawrence M. Anthony, Ph.D., LICDC, substance abuse treatment specialist, U.S. District Court, coordinator, Addictions Studies, Beckfield College. His intuitive analyses of our drug policies, along with his insights into our interdiction and law enforcement efforts, have rightfully concluded that unless we begin to make major changes in our attitudes, laws, and social policies, we may never come close to resolving this ubiquitous and devastating dilemma.
Rahtz lays out three tenets to the Drug War that demand a change in policy effectiveness, cost and basic fairness. From the street drug markets in U.S. cities to the escalating drug war on the Mexican border, the United States response to date can be described as the same old, same old more border agents, more police, more arrests, and bigger jails with a measure of drug treatment and prevention thrown into the mix. This book outlines significant policy moves that will siphon off the customer base of the illegal drug market. The first is legalization of marijuana, the cartels cash cow.
Moving marijuana to a legal status takes 30-40% of the drug market and transitions them to the legitimate economy. Rahtz goes on to explain how a tax policy that earmarks a portion of these funds for addiction treatment programs will further marginalize traffickers. With some modifications of drug laws and expansion of treatment options, I believe we can move substantially more addicts out of the drug market and into drug treatment. With its customer base gone, the illegal drug market goes out of business.
About the Author

Howard Rahtz is one of only a handful of people who have worked on both sides of the drug supply-demand equation. He earned his masters in Rehab Counseling from the University of Cincinnati coupled with his degree from Northwestern University School of Police Command and the Ohio Police Executive Leadership College. As a SWAT Negotiations Team Coordinator for the Cincinnati Police Department (CPD), Rahtz was responsible for the selection, training and deployment of SWAT Negotiators and Technicians. He coordinated with the Tactical Team for successful resolution of hostage and barricade situations for many years. Later, during Rahtz's tenure as Captain of the CPD's Central Vice Control Section, he implemented major reorganization to increase efficiencies in vice enforcement, which led to increased seizures of drugs, money and assets from traffickers. Rahtz also shifted the focus of drug enforcement from arrests to longer-term strategic efforts. Prior to his law enforcement career, Rahtz gained invaluable insight into the drug problem as a supervisor for a city run methadone program. As Executive Director of the Alcoholism Council, where he worked to establish treatment, intervention and prevention programs in the Cincinnati community, he was instrumental in starting the first local family intervention program and spearheading the first agency to address the needs of children of addicted parents.
Rahtz authored two previous books that are widely used by police academies and law enforcement agencies across the country. Read more about them on his website, http://howardrahtz.com/:

https://publiclyrelated.com/wp-content/uploads/2014/06/Logo.png
0
0
Publicly
https://publiclyrelated.com/wp-content/uploads/2014/06/Logo.png
Publicly
2013-01-11 14:03:36
2013-01-11 14:03:36
Howard Rahtz Releases New Book, Drugs, Crime and Violence: From Trafficking to Treatment, Offering a New Prescription for Americas Drug Problem